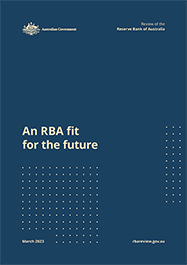 The final report 'An RBA fit for the Future' was presented to the Treasurer on 31 March 2023.
It analyses the RBA's performance over the past 30 years and makes recommendations on the monetary policy framework, governance, leadership and culture of the RBA.
Key documents
Final Report - PDF download PDF 10 MB
Final Report - Word download DOCX 2.3 MB
The RBA Review Panel spoke about their findings and answered questions about the final report at a Committee for Economic Development of Australia event on 24 April 2023.