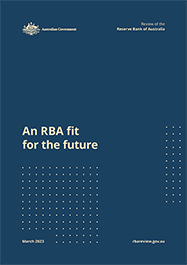 The final report 'An RBA fit for the Future' was presented to the Treasurer on 31 March 2023.
It analyses the RBA's performance over the past 30 years and makes recommendations on the monetary policy framework, governance, leadership and culture of the RBA.
Key documents
Final Report - PDF download PDF 10 MB
An accessible version of this report will be available in due course. If you require assistance in the interim please contact media@treasury.gov.au.